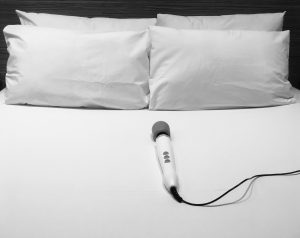 Photo courtesy of Quinn Rhodes
The only place where the smartest and hottest sex bloggers are featured under one roof every month. Whether you're looking for sex journalism, erotic writing, relationship advice or kinky discussions it'll be here at Elust. Want to be included in Elust #114? Start with the rules, come back January1st to submit something and subscribe to the RSS feed for updates!
~ This Month's Top Three Posts ~
The Source of Control Town Use FOMO is NOT how my vagina feels about sex.
~ Featured Post (Molly's Picks) ~
The Weight of my Red Self Mistletoe kisses
~Readers Choice from Sexbytes ~
If you want a job done… *You really should consider adding your popular posts here too* All blogs that have a submission in this edition must re-post this digest from tip-to-toe on their blogs within 7 days. Re-posting the photo is optional and the use of the "read more…" tag is allowable after this point. Thank you, and enjoy!
Thoughts & Advice on Sex & Relationships
Figuring Out Oral SexWhy I Need Non-Monogamy in My PolyamoryA Love of PhotographyThird trimester sexNights like TonightFinding a D/s partner is one long night
Erotic Non-Fiction
On SubspacePettingControl Takes Many FormsThe New Hood – a peek insideThe Past Smells of MenMen in Panties
Erotic Fiction
Tease Me Under the MistletoeArt ClassTotal Controlmen in pantiesIn the Red RoomAll Slippery and FloatyAmour
Writing About Writing
The Writing on the WallWriting is the painting of the voice.
Body Talk and Sexual Health
Writing About Writing
29 Blog Maintenance Things You Can Do
Thoughts & Advice on Kink & Fetish
Champagne boys apply hereThe other end of the caneGiving me a frill
Poetry
-05.12.18_23:04-